Superior Massage and Health, Inc.
Nerve Pain Solution
STIMPOD NMS 460
Tammy-Lee is a Certified Microcurrent Therapist, listed on the Stimpod NMS 460 Therapist page, and therapist testimonial featured on Remington Medical's page.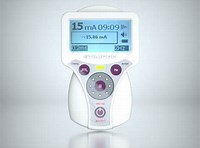 Cutting Edge, New Technology
Coming out of South Africa, a brand new technology that was developed for Anesthesiologists for Nerve Mapping, it was discovered the Stimpod NMS460 had a 90% success rate in complete relief from nerve pain and paresthesia ( numbness/ pins and needles ) in patients with Diabetic Foot Neuropathy when combined with pulsed radio frequency.
The technology has since gone on to prove very successful in treatment of Migraines, Tennis and Golfer's Elbow, Bell's Palsy, Crush Injuries, Inflamed Bursa, Rotator Cuff Injuries, Meralgia Paresthetica, Sciatic Pain, Arthritis, Complex Regional Pain Syndrome AKA Reflex Sympathetic Dystrophy, and Radiculopathy.
Case studies include treatment for:
Migraine headaches
Low back pain
Bell's palsy
Golfer's and Tennis Elbow
Diabetic related pain
Sciatica
Pins and needles type pain
Arthritis joint pain
Neuropathies
CLINICAL TRIALS AND CASE STUDIES COURTESY XAVANT TECHNOLOGY and ALGIAMED
CASE STUDIES COURTESY XAVANT TECHNOLOGY and REMINGTON MEDICAL CLICK HERE
Videos courtesy Xavant Technology