Superior Massage and Health, Inc.
Massage, Microcurrent, Stimpod and Shockwave Testimonials
Therapy Reviews
MICROCURRENT:
Old Motorcycle Injury Scar work, 4 treatments. Right side is the after photo.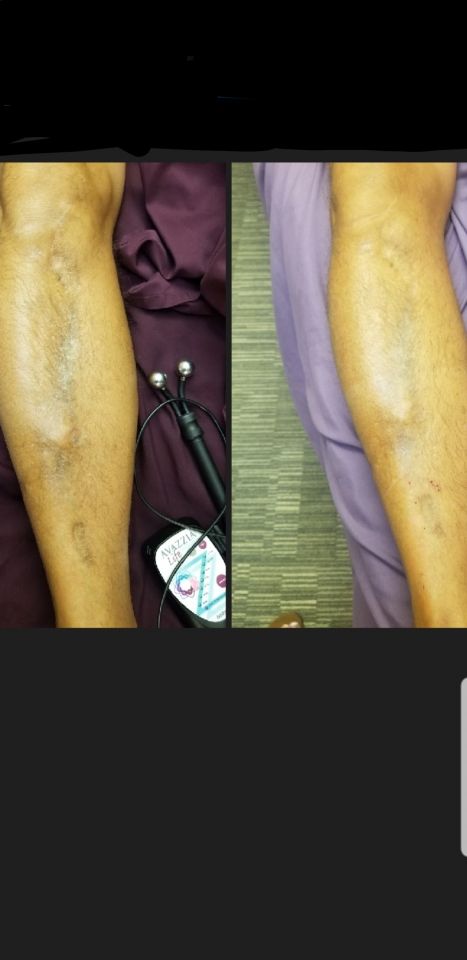 Please note, the below video examples is NOT within Massage Therapy scope and is in no way intended to be construed as such. Videos are for viewing purposes only.
2 video links below are of a furry friend whose owners brought her to me to try microcurrent. Vet was unable to help. She injured her back leg in the summer of 2020. Climbing up and down stairs was not an option for her after her injury. You will see movement was difficult for her. She started visits with me on Jan 14th, 2021 and after 7 visits, video #2 was the result, taken on Jan 30th, 2021, a mere 2 weeks after commencing microcurrent.
Video #1, before: /tammy-leegreschukrmt/doc/VID-20210131-WA0003%20(1).mp4
Video #2, after 2 weeks and 7 visits: /tammy-leegreschukrmt/doc/VID-20210131-WA0004.mp4
STIMPOD TESTIMONIALS:
In 2016 I somehow contracted a bacterial infection of the L2 - L3 vertebrae of my spine, called osteomyelitis. The pain was excruciating and it caused some long term nerve damage. My left leg atrophied to almost half the size of my right, I could barely walk. With time my leg somewhat recovered but the nerve pain continued, especially in my lower left leg (referred pain originating from my spine). I have tried many, many types of therapy such as Physio, Osteopathy, Acupuncture, Craniosacral, Reflexology, Massage Therapy and cortisone injections. Although somewhat helpful the intensity of the pain always returned. I had been seeing Tammy-Lee as my Massage Therapist even before my infection. She told me about Stimpod therapy and I researched it and even downloaded the manual to read as much as I could. I thought, why not give it a try?
I have had 8 treatments (twice per week). I was noticing changes after the first treatment and onward but it was after the the 5th and 6th treatment that I really noticed the biggest difference. I have lived the last three years taking pain medication to be able to live my life. I have lived in a 7-8 pain scale, take medication and maybe I could get it down to a 4-5. Since doing Stimpod therapy (and I should mention Shockwave Therapy) my pain scale has totally changed. I now am at a 5-6 and when I take pain medication, I am literally at a 2-3. Am I pain free? No, not yet, but the quality of my life has improved and for those of us that live with chronic pain we are grateful for any improvement. My last treatment was about 11 days ago and I am still holding well. I am going to go back for maintenance treatments and perhaps, I will get further relief. My plan is to keep monitoring my pain level for the next month or so. I really wanted to give my testimonial and be very honest about my experience so far. (8 treatments)
CJKC
RADIAL SHOCKWAVE THERAPY TESTIMONIALS:
I've had chronic pain and issues with my shoulder and back for years from old sports injuries. The shockwave therapy treatment along with deep tissue massage has quite literally changed my life. Within days after the first treatment, my pain and movement improved substantially. I've had about 5 treatments now, the last session she even did some cupping on the area. I'm back lifting weights at the gym again. I now see Tammy-Lee on an as needed basis. I haven't felt this good in years. Game changer! Highly recommended! (3 treatments)
K.F.
Before I went to see (Tammy-Lee) I was in so much pain that I could only go up one step at a time. After (the) treatment and a day later I feel great and have zero pain, and can climb stairs like I used to. (1 treatment)
N.W.
Nothing worked on my knee, it was clicking and would get weak when over worked, having pain going down stairs. I tried physio, chiro, and all sorts of things. Physios would make me workout my knee while they saw other patients, even though I would tell them that I did all the workouts they would give me. A chiro would do laser cold therapy for 10 mins and I never felt any difference. A friend who had issues with his knee told me about Tammy Lee and how she did radial shockwave therapy for up to 30 mins. I tried it once and felt an instant difference. After more treatments I felt like I was given a brand new knee. She is professional, friendly, and really knows her stuff when it comes to anatomy and injuries. I tell everyone I know with nagging injuries to try radial shockwave at superior massage and health. Any future injuries I would not bother with physio and just get radial shockwave therapy done. (4 treatments)
F.A.
I've been dealing with chronic pain in my upper front & back ribs for years stemming from torn muscles and ligaments in that area. After years of different chiropractors, massage therapists, prescription anti-inflammatories, physiotherapists, sports therapists, the list goes on, I decided to try shockwave. Tammy-Lee was able to treat the specific area, front and back, and I felt immediate relief within the first 24 hours after the first treatment. I did three treatments and found that it definitely helped my recovery process and provided immediate relief within that first 24 hours, then a longer lasting relief after a few days of recovery. I'll definitely be back! Tammy-Lee provides a great experience and treatment from start to finish that really works!
M.G.
I developed plantar fasciitis in both my heels in October 2018. I sought treatment from the chiropractor and he wanted me to seek radial shockwave therapy. I was referred to a physiotherapist and received treatment for 4 months. When I first visited the physiotherapist I requested radial shockwave therapy, but he wanted to treat it first. After my condition did not improve he suggested radial shockwave therapy. I was so disappointed for this is what I initially booked myself in for. Many hours and dollars were spent in physio treatment. After seeing Tammy for radial shockwave treatment my one foot is 100% and my other foot is about 95%. I am still ongoing treatment so I believe my one foot will be 100% soon. The cost difference between the physiotherapist for shockwave therapy and the massage therapist is astronomically different. Tammy really helped me. (7 treatments)
L.K.
I have had constant (knee) pain since November (2018) when I was diagnosed with Osteo Arthritis. I tried cortisone shots and multiple other remedies. I love to walk and it was debilitating that I could not walk without this constant pain. Then I found Radial Shockwave Therapy! Tammy was very open and honest about how this treatment may help. I have had the treatments and can say with confidence that I was 85% better and in less pain with this therapy. I highly recommend Tammy and the Radial Shockwave Therapy. I am now able to walk with some minor discomfort. (5 treatments)
C.P.
Two years ago, I injured my sciatic nerve by falling on my butt. I initially thought nothing of this injury other than my butt was sore. The injury began to become extremely problematic because I developed a charleyhorse that tightened around my sciatic nerve. My body reacted to this injury by expanding my charleyhorse to protect my leg. It got to the point my whole leg became numb and stiffened up. I sought treatment from doctors, physiologists, chiropractors, homeopaths, acupuncturists and nerve specialists. The treatment and drugs they recommended did not help my condition. The only thing that truly helped was the shock wave therapy. I highly recommend this treatment. (15 treatments were needed in this specific case)
G.R.
A year ago I badly turned my ankle tearing ligaments and pulling tendons. Unfortunately I was touring Europe with my wife at the time so I sucked it up and kept going. The continued abuse that my foot and ankle was exposed to only made matters worse. I suffered with quite a bit of pain and throbbing until a few months ago when I decided to allow Tammy to try radial shockwave treatments. The first treatment was really painful and she didn't use a very high level. I had 3 more treatments over the course of 4 more weeks and am glad to say absolutely no more pain or aches.
E.D.
Received March 1/19. Client had a bunion removed from the great toe that subsequently caused chronic inflammation. Anti inflammatories and a cortisone injection were unsuccessful in relieving inflammation. Client was treated 4 times weekly in Nov 2018. Previously had to buy shoes 1/2sz larger to fit foot:
Hey Tammy-Lee I really have to share something with you. We are leaving this morning for a MUCH warmer climate. I pulled out my summer shoes that I have not been able to wear for the past 2 years. They fit and are comfortable! The shockwave really worked but you have to be patient. It took a couple of months to really make a change but it does happen! So so glad I did that!
D.S.
It's been 6 years I have been dealing with my chronic kidney pain. I've had six treatments to date. I began noticing that it was working after 3 treatments. My shooting pain that wrapped around me and shooting pain into my pelvis have stopped. I will continue with the treatments because I believe there is more healing to be done with my kidney and this shockwave treatment works!
T.C.
After a few treatments on my knee, I am taking a lot less Advil and Tylenol. I am able to do more without the pain. It is not completely pain free yet, but the improvement is very noticeable. I will continue to work on my knee but also receiving treatment for legs and shoulders. I am extremely happy so far with the results! (5 treatments)
H.V.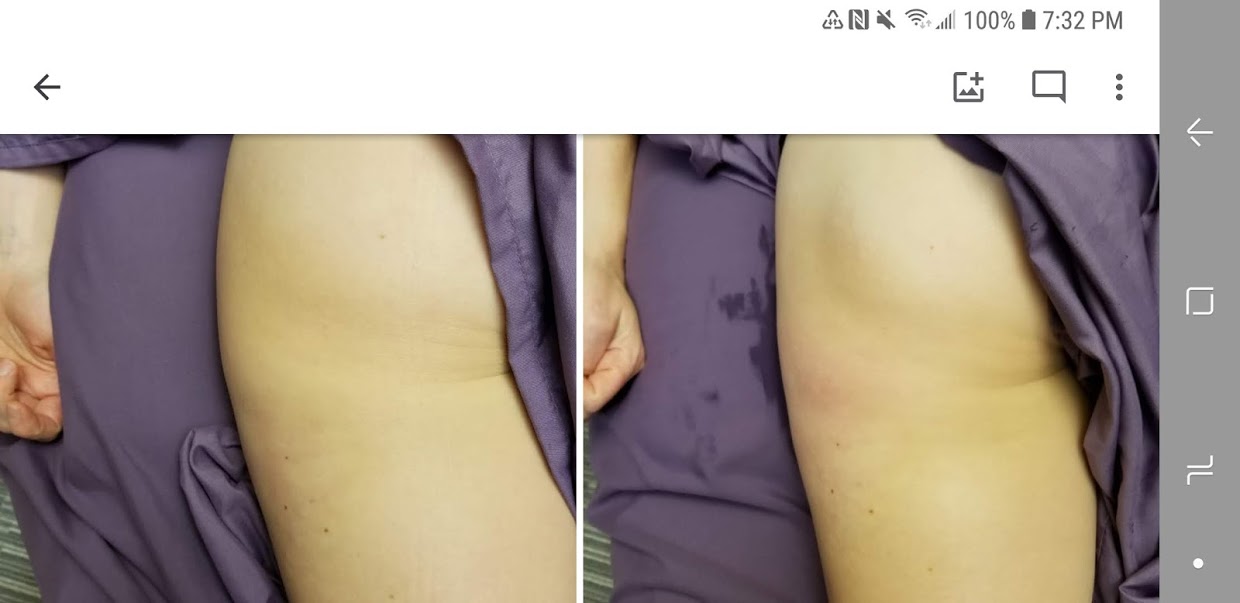 Treatment of a 1 yr old hip hematoma after the first 15 minutes.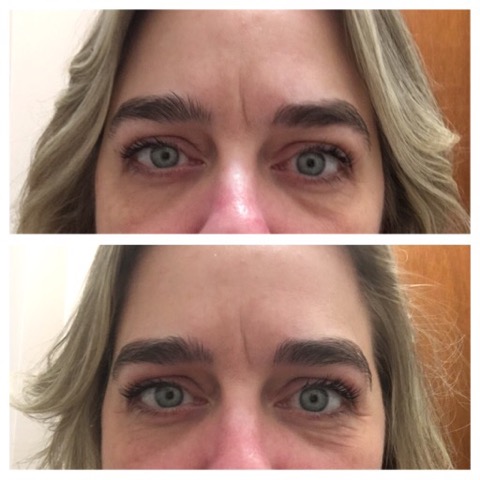 FACE/ TMJ TREATMENT: This is 3 treatments over the course of 14 days ( minimum 72 hours between treatments). Results will vary, more treatments may be necessary. Face treatments or TMJ pain treatments must be done weekly for a minimum of 3 weeks to achieve results. IF YOU CHOOSE THIS TREATMENT IT IS HIGHLY RECOMMENDED YOU TAKE BEFORE PICTURES PRIOR TO COMING FOR TREATMENT. MAKE SURE YOU USE THE SAME LIGHTING, TIME OF DAY, AND PLACE FOR COMPARISON. BEST TO HAVE SOMEONE HELP YOU. IT IS VERY EASY TO FORGET WHERE YOU STARTED ;)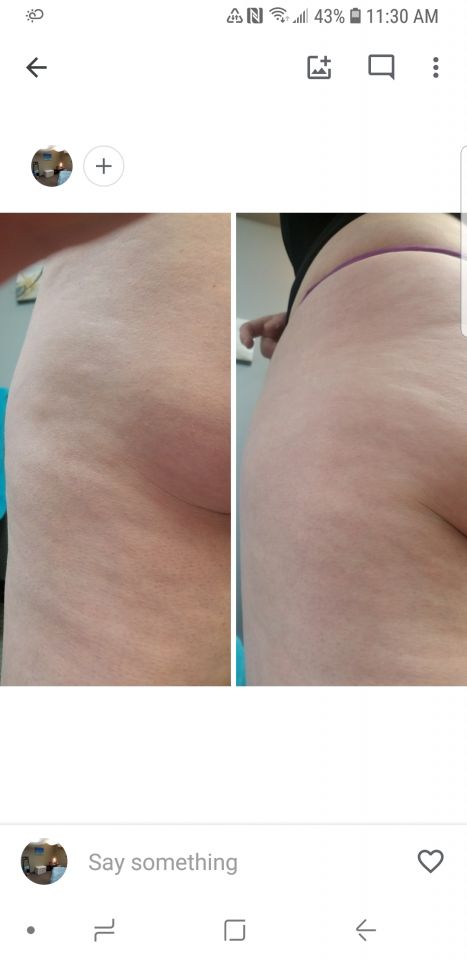 CELLULITE TREATMENT: This is 3 weeks, 6 treatments (minimum 72 hr wait time between treatments). Results will vary and depending on degree of cellulite, more treatments may be necessary. Cellulite needs to be treated frequently to achieve results (minimum 2 treatments per week for a minimum of 3 weeks, possibly longer). IF YOU CHOOSE THIS TREATMENT IT IS HIGLY RECOMMENDED YOU TAKE BEFORE PICTURES PRIOR TO COMING FOR TREATMENT. MAKE SURE YOU USE THE SAME LIGHTING, TIME OF DAY, AND PLACE FOR COMPARISION. BEST TO HAVE SOMEONE HELP YOU. IT IS VERY EASY TO FORGET WHERE YOU STARTED ;)
Video Courtesy: Ace Physiotherapy
MASSAGE THERAPY TESTIMONIALS:
I have been receiving deep tissue massages from Tammy-Lee for more than 6 years to treat lower back and sciatic issues. She does a great job of knowing how much pressure to apply in painful areas to work out and relieve issues. I have truly been impressed by her genuine interest and concern in me and my physical well being.
C.G.
I have been seeing Tammy-Lee for massage therapy for several years. My main reason for selecting her as my therapist was because of her specialized qualifications in prenatal massage. During my two pregnancies, I regularly received prenatal massages from her, which provided great pain and stress relief. I was always impressed with her professionalism and special care to prenatal safety and comfort during the massages. She has also always been very personable and reliable, and I will continue to recommended her to friends and family, especially when prenatal care is concerned. Thank you Tammy-Lee!
L.K.
Tammy-Lee is very professional and puts you at ease right away. She addresses your concerns with the information provided. Even gives you a bottle of water to make sure you eliminate toxins as it's important after a good massage. I've been seeing massage therapists for many years and I totally recommend Tammy-Lee! :)
M.G.
I have been a patient of Tammy-Lee for a number of years seeing her on a monthly basis. Over this time she has gotten to know me, my muscles and the needs of my body. Her hands are like magic knowing where to apply pressure and where to back off. I cannot think of anyone I would trust more and look forward to my monthly visits.
H.V.
I have found Tammy-Lee to be an outstanding massage therapist. I visit her regularly and she instinctively knows where to massage to alleviate sore muscles and areas of my body that are painful. I rely on her expertise and will not go to anyone else for my massage therapy. She is very knowledgeable, professional and works diligently to make her patients feel comfortable and informed. I would highly recommend her to anyone who requires the benefits of exceptional massage therapy.
M.M.
I have had massages from various specialists over the last 22 years. They all had something to offer, but Tammy-Lee has a good instinctive-feeling to what my aches and pains need. I have a torn hip and arthritis in my back which she has worked on in the past and I need less treatments for those now.
Most recently I got a rotary cuff/frozen-shoulder issue which I couldn't sleep-- after one treatment I had so much relief in my shoulder! It was so great I have better sleeps and am happier as a result. I'll be sticking with Tammy-Lee!
S.B.
I have never, ever been to such an excellent Massage Therapist! Her technique seems to know exactly where I need it most, even without saying a word. If you like a deep, complete, relieving massage, Tammy-Lee is the absolute best! I would highly recommend her!!
C.C.
Good day everyone, I had the fortune of meeting Tammy-Lee for a massage 6 plus years ago. Considering my line of work, I have been receiving massage for about 15 years. Tammy is very thorough in her delivery of deep tissue massage. In addition, she always educates me on the different muscles I have problems with and shows me stretches to minimize discomfort. A true professional and an all around good person is the key to her success. A pleasure to see for years to come and two thumbs up for her craft.
B.M.